2-Platen 4-Cylinder Direct Clamping System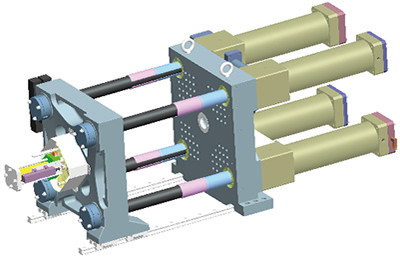 The Most Precise, Durable Clamping System in the World
Movable platen reciprocation is made by 4 tie-bars linked up fixed platen and 4 high pressure cylinders, clamping force is based on mold plane, 4 cylinders synchronously evenly pressure to the mold plane, good self-adaptable platen within a certain range of deviation, evenly clamping force for every corner of the mold, the accuracy of the horizontal movement of movable platen taken by linear guide, no flash occurs, no need to adjust mold, although the cost is higher but equipping the most accurate and durable clamping structure.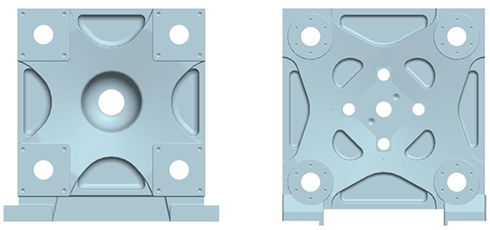 Patented central-radial platen design
■ The max deformation less than 0.0002, tie-bar never breaks.
■ Average radial mechanism design, evenly clamping force.
■ Patented cancave mold platen desugn, operation space increased.
Self-adapt platen mechanism design
The clamping pressure evenly clamp on 4 corners with 4 cylinder direct clamping system, prevents platens from abrasion due to unevenly pressure of 4 platen corners. If the mold's level is not very precise, the clamping force is evenly adjusted mold clamping force for getting good quality parts.
No wear, no pollution, no pressure decreasing
No heavy friction of 2-platen direct clamping mechanism and no pressure decreasing after pressurizing. Liner guides have more than 10 years durability, just need to grease every 3~6 months, no pollution and available to use in clean room.
Precise linear guide unit
■ Tolerance only 0.01mm, sliding smoothly, and high precision.
■ Over 10 years durability and no heavy friction as toggle type.
■ Platen's center-of-gravity position reached to the mold.
2-platen 4-cylinder direct clamping

Evenly mold clamping force and self adapt mold clamping systemimproved
the accuracy of injection system.

Single cylinder direct clamping

Evenly mold clamping force but lack of self-adapt function.

Toggle clamping

Unevenly mold clamping force, lack of self-adapt function and big platen deformation during clamping.
Tie-bars never break
Not limited by 20 to 24 times magnification rate of toggle, that could design tie-bars with higher safely coefficient with the intelligent pressure releasing program, tie-bars can use permanently, and never break.
Only 30~80% clamping force of conventional type
With the new plunger type injection method, high speed injection becomes smoother, higher injection penetration reduce the resistance of melting resin in the mold, producing with lower clamping force, multi-purposes of small machine, longer mold life.
Accurate low pressure detection system
By using the features of linear guide slide with the pressure backtracking electronic detection systems that achieve low-pressure protection with extreme sensitivity, and ensure the safety of the mold.